There is a growing sense of recognition in the global development community that the funds provided by donor countries through official development assistance (ODA) are not sufficient to adequately tackle today's development challenges. This has been made especially apparent by COVID-19, which has increased pressure on donor countries to invest more heavily in global health and pandemic preparedness and response. Meanwhile, the crisis' knock-on effects have simultaneously exacerbated funding needs in other areas critical to achieving the sustainable development goals (SDGs), such as gender equality and education, further straining ODA budgets. Given that the total volume of ODA being disbursed by donors is not increasing rapidly enough to match these growing needs, advocates need to start looking for new sources of finance to fund global development priorities.
One idea for increasing the pot of funding available for global development (that has been gaining increasing attention in the global development community) is leveraging additional sources of donor government revenue from outside of donors' ODA budgets or development cooperation-related budget lines. However, despite the global need and high-level calls for action on this topic, there is no clear definition of what constitutes donor government funding for global development beyond ODA, nor is there a playbook for accessing it. This Donor Tracker Toolkit aims to support those looking to mobilize donor government resources in support of global priorities from outside of ODA. Using global health as a case study it:
Conceptualizes what 'Beyond ODA' funding for global health could look like and where it could exist;
Explains the application of this conceptualization using Germany, the UK, and the US as examples; and
Offers concrete recommendations and conclusions for advocates interested in pursuing funding opportunities beyond ODA.
The goal of mobilizing Beyond ODA funding for global development is to increase the overall volume of funds devoted to tackling increasingly complex global challenges and to achieving SDGs. As such, this is not an exercise in uncovering ODA coding anomalies or labeling issues. Rather it involves conceptualizing how advocates might be able to divert or better align some funding from broader government budget areas to further global development.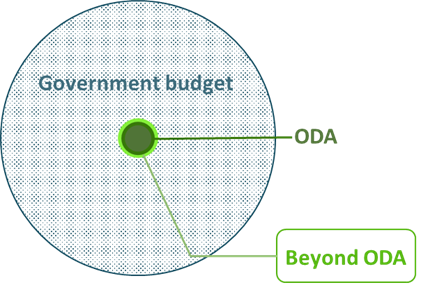 High-income countries spend a very small proportion of their total government budgets on ODA, typically from a defined budget set aside for the explicit purpose of development. On average in 2020, Organisation for Economic Cooperation and Development (OECD) Development Assistance Committee (DAC) donors spent just 0.32% of their GNI on ODA, which is funding explicitly meant to support the "economic development and welfare of developing countries as its main objective" and must meet OECD DAC eligibility criteria.
If the goal of identifying Beyond ODA funding opportunities is to uncover new and additional support for global development priorities (or in the case of this piece, global health priorities) then this funding must be carved out from previously domestically motivated pots of government resources outside of ODA. These opportunities are most likely to be found in:
Related budget lines: Areas where donors are already funding something that might be relevant to global health, and could potentially be persuaded to fund globally or scale-up investment, for example, domestic health R&D; or
Gaps in funding relative to priorities: Areas where there is a gap between priorities and the level of funding donor countries are providing, for example, if the defense ministry talks about the importance of global health security but does not have a budget for it.
To create a clear rationale for why they could be, at least partially, funded from outside of traditional ODA budget sources, Beyond ODA investments will likely straddle national and global interest. This means opportunities to mobilize Beyond ODA funding are most likely to exist for projects that address transnational issues from which citizens of donor countries also benefit.
There are three broad and overlapping reasons why it could be in the national interest for countries to invest globally that could be used to convince donors to fund global functions from Beyond ODA. These reasons include:

To enhance national security, for example, in the face of the COVID-19 pandemic, national health security would have been protected via investments in the best global vaccine candidate rather than the best domestic candidate.
To support the domestic economy, for example by creating new markets for the donors' research and development (R&D) sector, and/or
To increase global influence, for example, by positioning the donor as a global leader on a certain issue.
What might investments that benefit both domestic and global citizens look like? The concept of 'global functions' can be used to describe the types of government spending that could have positive domestic and global impacts. Global functions include:
Global public goods (GPGs), such as R&D for global health tools;
Management of cross-border externalities (CBE), such as pandemic preparedness and response and disease surveillance; and
Exercising leadership and stewardship, such as coordinating global health responses.
Because of the global nature of the benefits they create and the temptation to free ride, the incentives for individual countries to invest in global functions, and therefore opportunities to mobilize Beyond ODA funding, are typically limited; however, COVID-19 (and the climate crisis) have created an opportune moment to engage on Beyond ODA opportunities because they have demonstrated to donor governments and their citizens the health, economic, and geopolitical costs of underinvestment in global functions. They have also served as a reminder of the interdependency of national and global interests. Despite this, ensuring that the funding is really new and additional will be difficult as the rules on what qualifies as ODA do not de facto exclude funding that furthers national interest and donors often make decisions around their ODA funding based on the three 'self-interested' reasons highlighted above.
Beyond ODA opportunities exist where advocates can leverage domestic self-interest to increase funding for global function.

This section applies the conceptual framework outlined above to understanding examples of Beyond ODA funding in three distinct donor country contexts — the UK, Germany, and the US — explaining what can be learned from each of them. The goal is to help advocates understand the operationalization of the concept of Beyond ODA and the ways that it must be adjusted across country contexts, as the interactive graphic below shows.
Click 'Present' below to dive into the examples. You can click through all of the examples using the arrows at the bottom, or click directly on the circles inside each map area to explore specific examples:
You can also download factsheets on these examples here.
Increasing the pot of resources available to fund global development is essential to achieving the SDGs. Beyond ODA — or funding that comes from outside of donor countries' traditional ODA budgets or budget lines — represents one opportunity for increasing the overall volume of funds devoted to global development priorities, including global health.
COVID-19 has created an opportune moment for working with donors to bring together global and domestic priorities in a way that creates positive externalities for the global community; however, translating these opportunities into significant new and additional sources of funding for global health will not be easy given domestic funding demands and the temptation for individual governments to free ride on global goods. With the right tactics, though, advocates may be able to mobilize new sustainable funding for global benefit from beyond donors' ODA budgets.
In general, advocates going after Beyond ODA funding opportunities will need to engage with different types of advocacy, employ different kinds of narratives, and leverage a different set of partners to shape domestic funding in a way that maximizes the global benefit. The different funding contexts across donor countries mean that the way advocates approach the challenge of mobilizing Beyond ODA funding must also take into careful account the specifics of the donor they are targeting. Advocates should:
Explore opportunities to engage with other parts of government away from traditional development ministries;
Be opportunistic about identifying opportunities to shape domestic funding or initiatives to enhance its global benefit;
Leverage arguments around the efficiency of global coordination to encourage donors to invest in global functions;
Take advantage of the decentralization of responsibilities for global development when possible, and potentially advocate for more diffusion of responsibility across government in contexts of greater centralization; and
Push for the formation of new, independent, government-funded agencies or foundations with the potential to fund global issues that are in the national interest, when institutional flexibility allows.
Beyond ODA funding opportunities will also offer different types of outcomes, advantages, and disadvantages compared to ODA. Beyond ODA funding will necessarily be less focused on low- and middle-income countries. It is most likely to be funding that stays in the donor country but is spent in a way that maximizes positive externalities for the global community. It is less likely to be channeled through multilateral organizations — unless these organizations make structural changes to their funding windows or the way they position themselves in the global system. However, Beyond ODA funding has the potential to create more room within ODA budgets to fund initiatives that are primarily in the interest of low- and middle-income countries. When deciding whether to pursue Beyond ODA opportunities, advocates must consider whether they are willing to adapt their expectations and to do the (likely long-term) work of mobilizing this funding.
In addition to working with donor countries themselves, part of this long-term play will need to involve questioning the broader systems in which donors are operating. The way global development funding architectures are set up does not incentivize or create many opportunities for donor governments to consider global benefits in their domestic budgeting. If the global development community wants to see Beyond ODA become a sustainable source of funding for their priorities, there will need to be a global push toward more innovative and flexible funding mechanisms and a move away from the strictly dichotomous approach of funding "global" priorities out of one pot, and "domestic" priorities out of another. This setup fails to account for the intricately interconnected world in which we live; the reality is that achieving the sustainable development goals is a truly global challenge that requires global solidarity and collective solutions.