Do you want to know who is funding women's financial inclusion in Nepal? Are you keen to track funding to support unpaid care work in Uganda? Do you know which groups of women most often receive funding for women's economic empowerment (WEE) from donors? Publish What You Fund's new Step by Step guides cover how to best track international funding to WEE and women's financial inclusion (WFI) at the country level.
DOWNLOAD THE GUIDES:

How to Track International Funding to Women's Economic Empowerment – A Step by Step Guide

How to Track International Funding to Women's Financial Inclusion – A Step by Step Guide
WEE is indispensable to fully realizing both women's rights and their full participation in society and the world of work; it is also critical to achieving gender equality while reducing poverty for all. Despite its recognized importance, there is a limited understanding of who funds it, how it is funded, and with what results. Without this information, it remains difficult for policymakers, funders, and gender advocates to make decisions and/or advocate for the best funding allocations and approaches.

As a result, for the past two years Publish What You Fund, through its Women's Economic Empowerment project, has developed and piloted a new approach to track funding to WEE, WFI, and women's empowerment collectives (WECs), and to assess funders' gender integration.

The project focused on tracking international funding to Bangladesh, Kenya, and Nigeria, to produce granular insights into which aspects of WEE receive funding. In addition, this project produced a replicable, country-based approach for tracking funding for WEE and WFI that can be used and adapted by decision-makers, researchers, and advocates for their own purposes, including holding funders accountable and/or advocating for different investments in the WEE space.

This partner perspective introduces Publish What You Fund's two, newly-launched step by step guides on how to track international funding to WEE and WFI at the country level, while answering some key questions about the thinking behind these guides, and how they might be used by others.

What will you find in Publish What You Fund's Step By Step Guides for tracking WEE and WFI funding? Developing the right definitions and relevant methodology for tracking WEE and WFI funding, and then implementing this research against available data, was a resource- and time-intensive undertaking. For this reason, the Publish What You Fund team is keen to share our learnings and to make suggestions for how users could adapt and simplify these processes based on their unique interests, needs, and capacities. With these goals in mind, our easily digestible Step by Step guides:
Provide direction on how to choose the datasets that best meet user needs;
Identify how to track gender intentionality and how to tailor the research to account for a particular country context;
Explain the different approaches to tracking funding for WEE and WFI, along with guidance on how to manually review potential projects and categorize them for analysis; and
Suggest areas for additional analysis depending on areas of interest.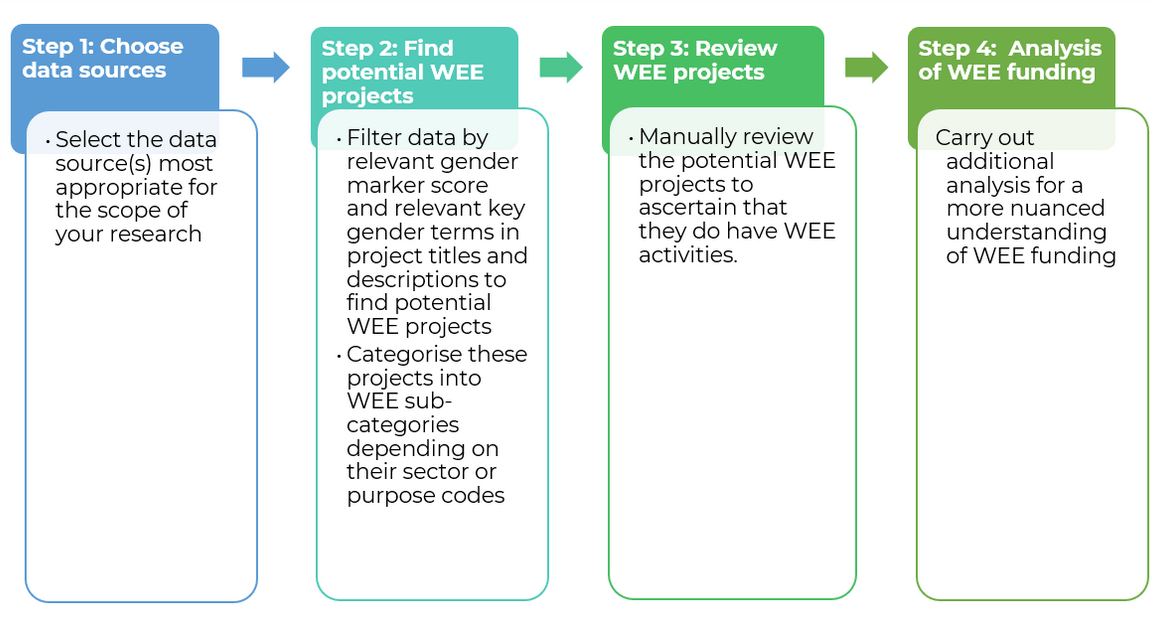 There are many definitions of WEE and WFI, so the first challenge we faced in this project was to establish the right scope. To help guide our thinking, and to enhance our understanding of what kinds of evidence might be useful for conversations with policymakers and funders, we convened expert advisory groups in Kenya, Nigeria, and Bangladesh, as well as global experts. These conversations provided a clear consensus on the way forward: to establish a holistic and rights-based definition of WEE.

We then worked with the International Center for Research on Women (ICRW) to develop a framework that captured a broad range of projects that directly support income earning and greater economic rights for women and girls, as well as create an enabling environment for WEE. This process revealed the importance of addressing women and girls' unpaid care work, so we added a focused analysis of unpaid care to our research. This holistic framing of WEE is a key feature of our Step by Step guides.
Armed with our comprehensive methodology, we then focused our attention on finding the right data. Our goal was to capture the broadest universe of potential WEE projects. To do this, we developed an innovative approach that involved merging data from the OECD-DAC CRS, IATI, Candid, and the CGAP Funder Survey into single-country datasets. These datasets captured both grant and non-grant (loans, guarantees, and equity) funding from bilateral and multilateral funders, development finance institutions, and philanthropic organizations.

As we applied our methodology to the data, we made iterative improvements to refine our approach. The findings from our efforts are detailed in our Kenya, Nigeria, and Bangladesh country report series. These documents outline top funders in each country, aspects/types of WEE and WFI activities that receive funding, clear gaps in the funding, particular groups of women that funders aim to support, and how much funding went to projects in which WEE/WFI were the primary objective versus those in which gender was just a sub-component of a broader development program.

Applying our methodology necessitated significant cleaning and quality checks of the datasets, proving that this level of research requires both significant data skills and capacity. We realize that not every organization has the skills or capacity to undertake this type of research, therefore, we designed our guides to be flexible, allowing for the use of one or a combination of data sources according to researchers' needs, capacity, and time constraints. The guides refer to our data collection methodologies where we weigh the strengths and drawbacks of respective data sources to assist other researchers as they replicate these efforts.
For anyone wishing to undertake similar research in their own country contexts, these two Step by Step guides are a great place to start. They describe how you can collect and analyze international funding data to better understand the funding directed to WEE and gender equality. In addition, our detailed methodologies and approach to combining data sets are all available on the Publish What You Fund website.

Let us know what you think of these guides or if you can undertake this tracking in your own country. We are interested to hear about your experience or to talk with you about ours. You can reach us at [email protected].